Bloomington Health Insurance Made Simple
INSURANCE CAN BE CONFUSING!
As an official broker enrollment center in Bloomington Minnesota, Health insurance is our specialty!
Alexander & Haberman is continuing to serve the Bloomington, Minnesota community as a MNsure broker enrollment center during the 2021 open enrollment period, which runs November 1, 2020 to December 22, 2020. Be sure to enroll by December 22, 2020 for coverage beginning Jan 1, 2021. We also provide ongoing assistance throughout the year when you have Qualifying Events and want to enroll during a Special Enrollment Period.
MNsure is Minnesota's health insurance marketplace, where you can shop, compare and choose health coverage. It is the only place you can qualify for financial help through federal tax credits or MinnesotaCare and Medical Assistance.
Want to learn more about your health insurance options? Need help with the application and enrollment process? Visit our broker enrollment center to meet face-to-face with MNsure-certified brokers and navigators who will help you find the most comprehensive and affordable coverage.
Give us a call or stop in today. We are ready to help!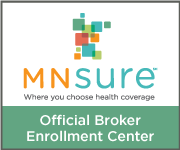 Bloomington Health Insurance | 9301 Bryant Ave S, Suite 105, Bloomington, MN 55420 | 952-548-6624